M3 and M4 Leaks
BMW just confirmed that leaked pictures of the BMW M3 and M4 are actually accurate, but we are over a year and half away from the launch of these redesigned models. However, that's not the most intriguing factor for these new vehicles.
Lately, a meme has been spreading throughout automotive enthusiasts Facebook pages and other forums, showing a BMW kidney-grille design that eventually encompasses all of the vehicle. Jokes aside, the design spotted for the grille of the likely M4 seems to fall somewhat in line with this meme, with some less wide but stouter looking kidney-grilles showcased at the front of the vehicle. The rear-end shot has similar styling to the M3 predecessors, with some slight changes that keep the vehicle looking more modern.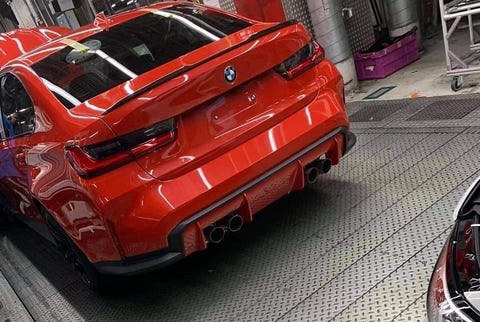 But back to the kidney-grille style, that some may call divisive, but I personally think looks fantastic. Apparently based on the design of the BMW Concept 4, BMW design chief Adrian van Hooydonk said, "It is a sporty coupé, and by definition, it has to have a very expressive design, and you see that all around the car, not just the front. But there are not that many lines or elements—it's not a complex design." And expressive the grille is, creating a statement for such an aggressive vehicle such as the M4.
But as I said before, I'm actually a huge fan of the grille, which to me is eerily reminiscent of the Plymouth Prowler, another vehicle that was built to make a statement. With both vehicle showcasing a large grille and a signature front end framed by sharp, slanting headlamps, it's a design that stands out and showcases the vehicle. Let us know your thoughts on this different style.